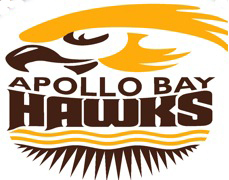 The local football club's name is the Apollo Bay Football Club which is more commonly referred to with its nickname of the Hawks, but is popularly known as the Bayers by the locals.
Over the years Apollo Bay has participated in a number of different local competitions. The Bayers reached the grand final in the Apollo Bay Football Association in 1926, only to go down by a point to the Elliott River club.
This was followed by a short period in the Polwarth Football League. Then, from 1931 to 1934, the club became a member of the Otway Football Association and enjoyed great success in this period, winning the championship every year except for 1933. In 1935 the Bayers rejoined the Polwarth Football League, where they stayed until 1971.
After transferring to the Colac and District Football League in 1971 the Hawks had moderate success and finally broke through to win the flag and their first senior premiership in 1984.
During the 1990s the club enjoyed a golden period with three grand final wins in 1993, 1996 and 1999 and just missing out on a fourth by 2 points in the 1995 Grand Final.
During the 2000's Apollo Bay consistently performed among the competitionís leaders, adding further premierships consecutively in 2003 and 2004. Both of these pennants were won by defeating Lorne on both occassions. The 2003 final was a dour, low scoring struggle and the Hawks came through eventually winning by 11 points. The following year the Hawks steamed home, winning by 12 goals.

Recent Results:
Saturday 27th May 2017: Lorne 15 13 (103) v Apollo Bay 8 14 (62)
Saturday 20th May 2017: Apollo Bay 15 18 (108) v Otway Districts 10 6 (66)
Saturday 6th May 2017: Alvie 9 10 (64) v Apollo Bay 8 9 (57)
Saturday 29th April 2017: Colac Imperials 3 6 (24) v Apollo Bay 10 16 (76)
Saturday 22nd April 2017: Apollo Bay 14 24 (108) v Western Eagles 2 7 (19)
Saturday 8th April 2017: Irrewarra-Beeac 19 15 (129) v Apollo Bay 10 8 (68)
Saturday 1st April 2017: Apollo Bay 13 12 (90) v Simpson 10 11 (71)


Last Season Results:
Saturday 13th August 2016: Alvie 12 9 (81) v Apollo Bay 9 9 (63)
Saturday 6th August 2016: Apollo Bay 14 11 (95) v South Colac 15 13 (103)
Saturday 30th July 2016: Simpson 12 6 (78) v Apollo Bay 8 5 (53)
Saturday 23rd July 2016: Apollo Bay 9 7 (61) v Irrewarra-Beeac 6 5 (41)
Saturday 16th July 2016: Otway Districts 10 8 (68) v Apollo Bay 14 10 (94)
Saturday 9th July 2016: Apollo Bay 26 15 (171) v Western Eagles 6 9 (45)
Saturday 25th June 2016: Colac Imperials 16 8 (104) v Apollo Bay 11 6 (72)
Saturday 18th June 2016: Apollo Bay 9 13 (67) v Lorne 8 4 (52)
Saturday 11th June 2016: Apollo Bay 9 14 (68) v Alvie 13 9 (87)
Saturday 4th June 2016: Birregurra 22 17 (149) v Apollo Bay 9 6 (60)
Saturday 28th May 2016: South Colac 22 15 (147) v Apollo Bay 8 11 (59)
Saturday 14th May 2016: Apollo Bay 9 10 (64) v Simpson 11 13 (79)
Saturday 7th May 2016: Irrewarra-Beeac 13 13 (91) v Apollo Bay 20 10 (130)
Saturday 30th April 2016: Apollo Bay 13 17 (95) v Otway Districts 10 8 (68)
Saturday 23rd April 2016: Western Eagles 8 12 (60) v Apollo Bay 19 16 (130)
Saturday 16th April 2016: Apollo Bay 14 7 (91) v Colac Imperials 14 11 (95)
Saturday 9th April 2016: Lorne 13 13 (91) v Apollo Bay 13 7 (85)
Saturday 2nd April 2016: Apollo Bay 5 10 (40) v Birregurra 15 10 (100)


Some results over the years:
2013 Semi Final South Colac 10 8 (68) d Apollo Bay 7 10 (52)
2004 Grand Final Apollo Bay 23 17 (155) d Lorne 12 11 (83)
2003 Grand Final Apollo Bay 5 13 (43) d Lorne 4 8 (32)
1999 Grand Final Apollo Bay 19 17 (131) d Alvie 12 8 (80)
1996 Grand Final Apollo Bay 11 13 (79) d Lorne 9 8 (62)
1995 Grand Final Colac Imperials 13 7 (85) d Apollo Bay 13 5 (83)
1993 Grand Final Apollo Bay 12 11 (83) d Winchelsea 9 15 (69)
1984 Grand Final Apollo Bay 13 12 (90) d Lorne 9 8 (62)
1972 Grand Final Irrewarra 13 19 (97) d Apollo Bay 9 7 (61)